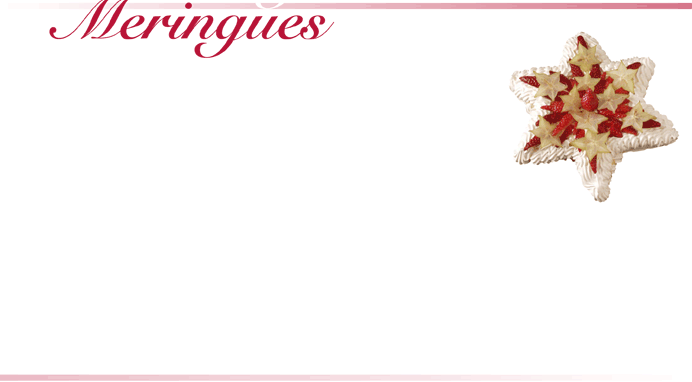 Christmas - Christmas Star
Fill a Hazelnut Star Shape Pavlova, with Rum and Raisin Ice cream, and top with
chopped hazelnut, Melt some dark chocolate with some cream and a splash of Baileys
and then drizzle over ...Makes a stunning centre piece.

Tropical Tower
Use a tall glass, place pieces of mango and pineapple in the glass, on top of this spoon
in some passion fruit sorbet, then pour in some single cream, top off with a large meringue
shell and decorate with a little piped cream.

Banoffee Pavlova
Use the Pavlova of your choice (or make individual portions using Large Nests), layer the
bottom with sliced banana, melt some toffees with a little cream, allow to slightly cool then
pour into the pavlova and allow to cool. Whip some cream and then pipe on top.
...a twist on the usual.